Invigorating Banyule's public spaces by encouraging people to experience the arts in unexpected places and think about the city differently.

Each year support small, new and original, site-specific art projects. Works are one-off, ephemeral art experiences delivered in a public space within Banyule – a shopping strip, car park, laneway, swimming pool, local park or even a bus stop – it might be anyway, as long as it's creative. It may be contemporary performance, visual art, digital-media, writing or a combination of art forms. We look for work that is engaging, accessible and invites contemplation. Application and funding information available here.


Current Art in Public Spaces projects
We are pleased to announce the Pinpoint Art in Public Spaces artists for July 2017:
Jacqui Lewis | FLOW | Installation & workshops | 10 - 15 July |

Workshops:

11am - 1pm | Greensborough Walk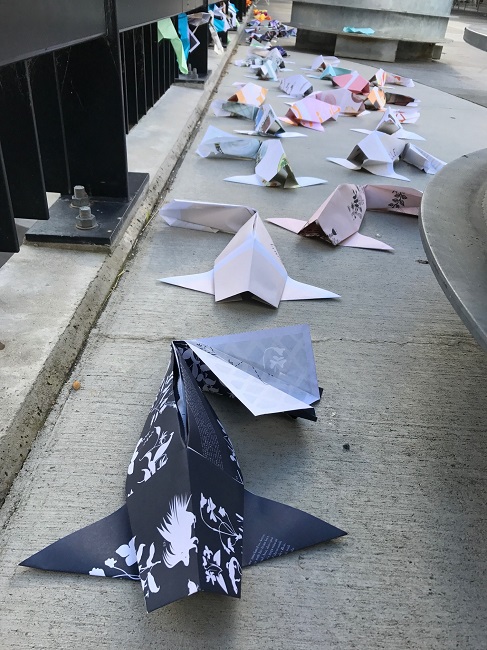 The
'school' of origami fish – swimming its way towards Watermarc Aquatic Centre – has been
created from recycled paper by the artist in workshops with community at Araluen Primed (disability day services). The fish represent a 'flow' – from office paper to the new creation of fish to the potential for natural degradation either from weather, or finding their way to a new owner's home.


Origami fish workshops - Tuesday 11 to Friday 14 July (11am - 1pm).

Add your creation to the Flow!



Alice Bennett

and

Felicity Gordon

| SOUND TREE | Installation | 15 - 30 July | Watsonia Library Community Garden
The Outdoor Sound Wall is a sonic and visual art installation made from recycled
materials, designed to make music when it rains. The work explores issues of environmental
sustainability and awareness through the use of sound. Hearing has become a secondary sense
in the modern world and the Sound Wall hopes to bring back awareness to the sound of the
environment around us. We encourage you to interact with the work by using the kitchen
implement mallets to play the objects, treating the wall as a percussion instrument.
Jessie Stanley

| DUST TO DUST | Installation | Saturday 22 July | Watermarc, Greensborough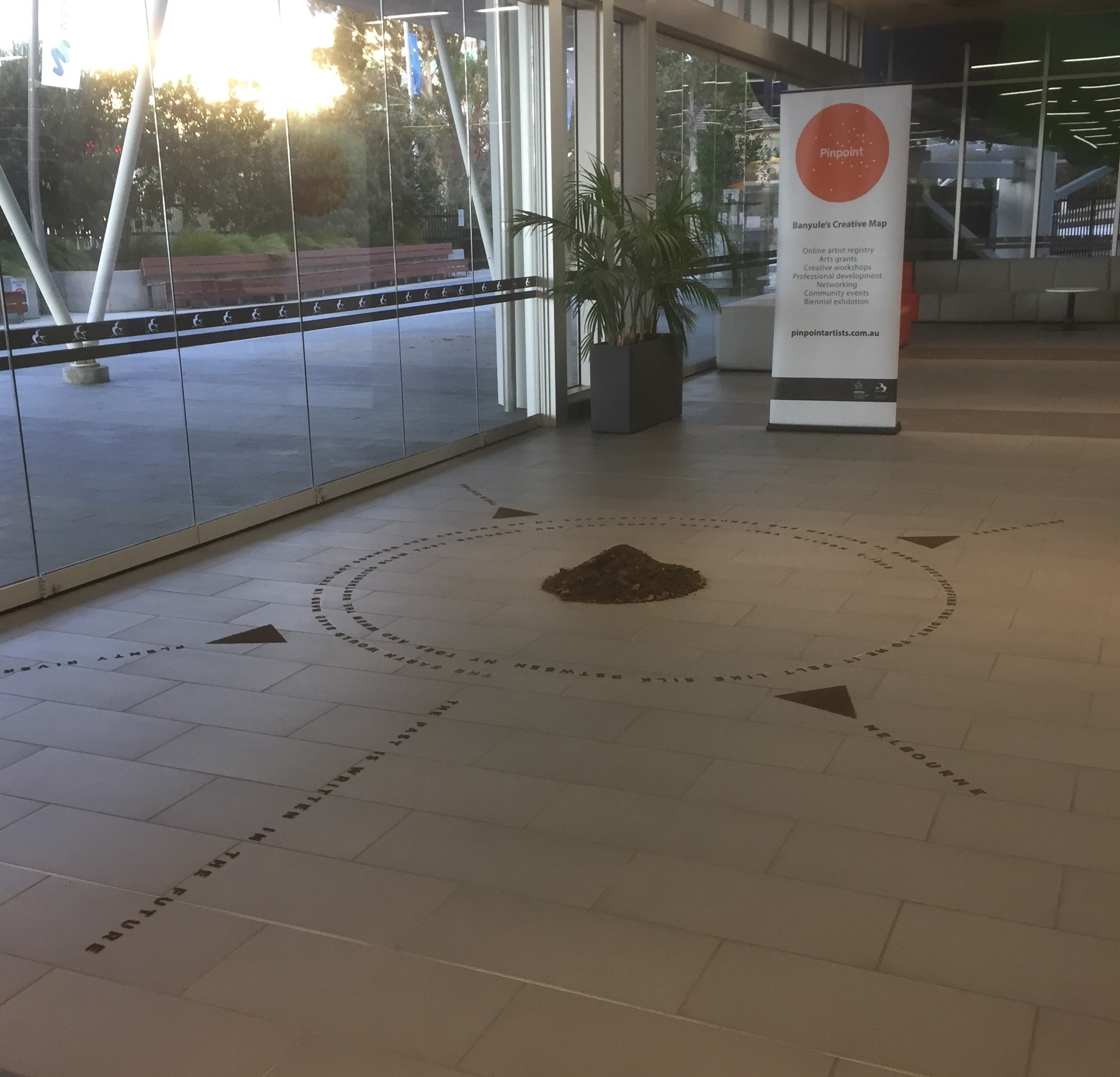 Jessie's ephemeral, site-specific artworks are created to reveal the origin of place, and orient how places
are symbiotically shaped by their geology and people. The use of this area's exceptionally fertile soil by
white settlers for farms, market gardens and orchards shaped Greensborough. Those farms may no longer
be evident in the landscape – but their private sale and division informs the streetscape today. 'Dust To
Dust' is made from locally sourced soil, temporarily transformed into a 'Time Compass' and poetic forms
that reveal some of this area's history.
Text by Val Wilson (circa 1950) sourced through collaboration with Greensborough Historical Society.
The artist respectfully acknowledges the Wurundjeri Tribe as the
traditional custodians of this land, and the ancient and continuing relationship they have with this soil.
---
Previous Art in Public Spaces projects


Old Heidelberg Cemetery Installation & Performance (2016)
with Briony GALLIGAN
Old Heidelberg Cemetery



Olympic Vilalge Tee-pees (2016)
with Liz WALKER and Avis GARDNER
Old Heidelberg Cemetery


Art Adventure Tours (2016)
with Fiona HAASZ
Various locations around Banyule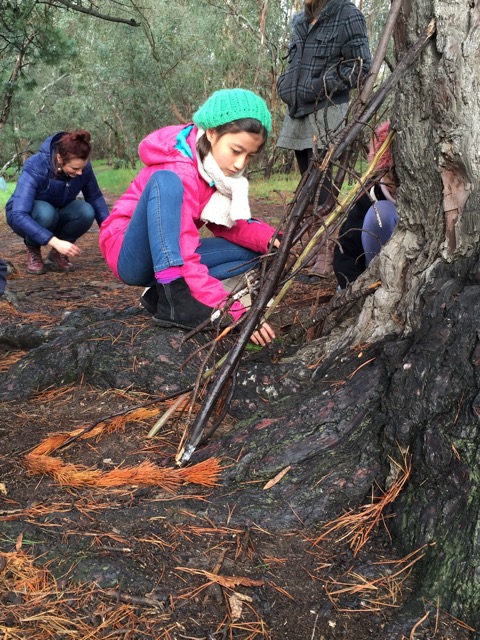 ---
Yarra River Art Markers (2016)
with Chris HUMPHRIES
Yarra River Parklands, Lower Plenty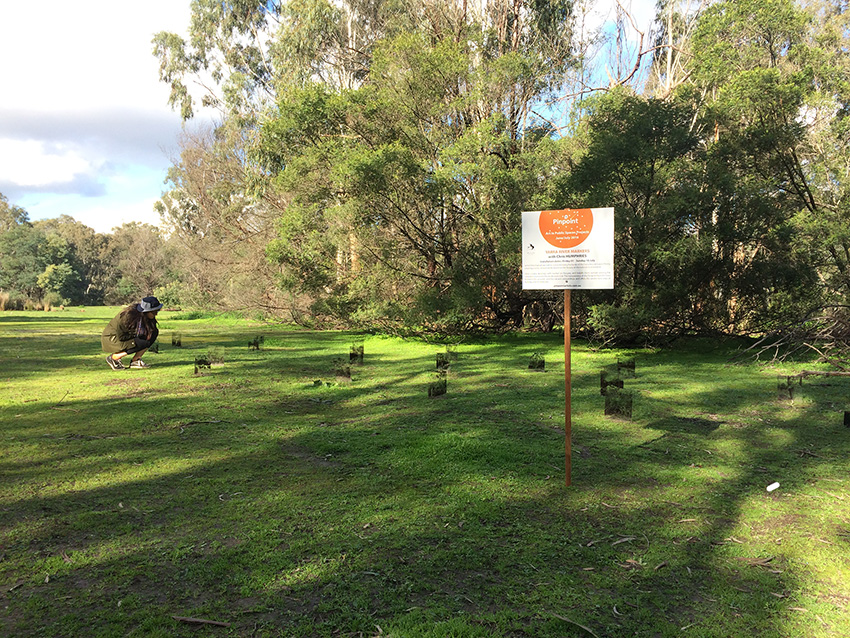 ---
Spots (2016)
with Elizabeth WEST
Were Street, Montmorency